By Sue Stout
Reprinted from the Arcola Record-Herald, November 7, 2013
While few families in the country may claim the distinction of having seventeen children, it is likely even fewer may share the honor of having seven brothers who served their country during World War II. The Arcola Alumni Association honors the seven sons of Roy and Lillie Ghere. All were Arcola High School students and all served this nation during World War II.
Roy Andrew Ghere (born August 19, 1885) and Lillie Elizabeth Smith Ghere (born December 4, 1886) were life-long residents of the Arcola community and began their family June 25, 1906 when twins Albert and Alberta were born. Albert did not survive. Fifteen babies followed in the next twenty-five years: John Wilson (1907), Gertrude (1909), Lorraine Marie (1910), Edna Verna (1912), Nettie Louise (1914), George Rae (1916), Roy Donald (1918) Marguerite Frances (1920), Albert Harrison "Harry" (1921), Bobby Gene (1923), Russell Smith (1925), Jimmie Lee (1926), Lillie Elizabeth "Patty" (1927), Maxine (1930) and Joe Ellen (1931). The December 9, 1928 Decatur Review spotlighted Roy, Lillie and their children as one of the five families in the area with the most children. The Gheres topped the list, even before the last two daughters were born.
The Ghere family lived on South Oak Street and Roy Ghere supported his family in his drayage and transfer business until his untimely death on June 15, 1934. He developed pneumonia and died in his home at the age of 48. Roy left behind his widow, Lillie, and their sixteen children, ages 2-27. While four of their children were married, twelve were still living at home. The Ghere sons were able to continue their father's business until the spring of 1943.
Each of Roy and Lillie Ghere's children were students at Arcola High School. At a time when it was not uncommon for children to leave school prior to graduation, most of the sixteen Ghere children completed their education at Arcola High School: Alberta (1926), Gertrude (1927), Lorraine (1928), Louise (1933), Donnie (1938), Marguerite (1939), Harry (1941), Bobby and Russell (1943), Maxine (1948) and Joe Ellen (1949). John, Edna, George and Jim all attended AHS. George left school when his father died in 1934. Jim was just a few months short of graduation when he was called to the Army. Patty died July 11, 1941 following complications of rheumatic fever. She was just thirteen and would have been an eighth grader in the Arcola schools.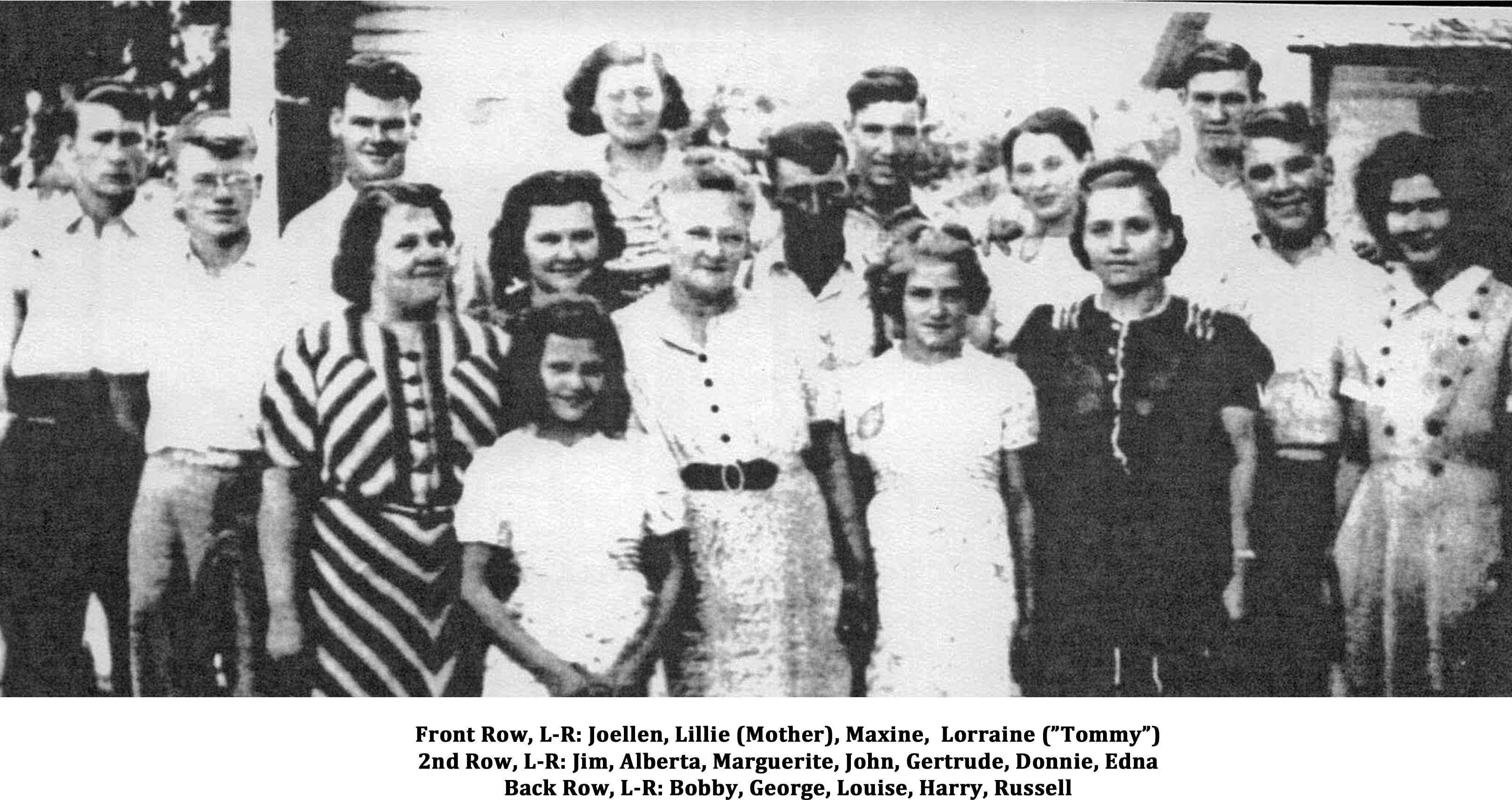 The Ghere brothers excelled in athletics at Arcola High School and led their teams to many victories in football, basketball and track. John was the first of the Ghere brothers to perform on the AHS football fields in the 1920s, with George following in the early 30s. Donnie played quarterback and lettered each year on the 1934-37 powerhouse Arcola football teams that garnered 33 consecutive victories. He also earned letters in wrestling, basketball and baseball. Harry lettered four years in football, basketball, track and baseball. He paced the state in scoring during the 1939 football season, until he was edged out in the final game of the year. Harry was two-year captain of the basketball team. His 11'3" pole vault record remained at AHS for well over twenty years. The March 22, 1945 Arcola Record-Herald described Bobby as an "outstanding athlete" who excelled in football, basketball and track all four years at AHS and was co-captain of his football team. Russ was also an outstanding athlete in football, basketball and track. Likewise, the Record-Herald noted the many athletic accomplishments of Jim in football, basketball and track while at AHS.
Just as all families sacrificed in some way during World War II, the Ghere brothers answered this country's call to the fighting fronts of the world.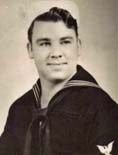 Donnie Ghere enlisted in the U.S. Navy as a third class baker in the spring of 1942. He was later promoted to Chief Petty Officer in charge of the Commissary Department aboard the Destroyer Escort U.S.S. Riddle on combat duty with the Pacific fleet. He received his honorable discharge from the Navy in 1945 after serving three years, nine months.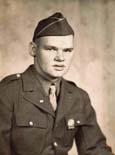 George Ghere entered the U.S. Army, 95th QM Company, 95th Division on July 2, 1942. He served as a truck driver, carrying supplies to the front while located in North Africa, northern France, the Rhineland, England, Belgium and Holland from September 7, 1944 to June 24, 1945. George survived battle in North Africa and was wounded while serving in the Rhineland. He was discharged from the Army as a Private First Class on October 18, 1945.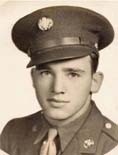 Harry Ghere entered service on August 26, 1942 and served thirty months with Company B, 88th Signal Battalion of the US Army in Luzon, North Solomans, Guadalcanal, New Georgia, Bougainville and Japan. Staff Sgt. Ghere was discharged on November 11, 1945.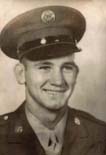 Russell "Fudgie" Ghere graduated with the AHS Class of 1943 and was inducted into the US Army Air Corps on July 8, 1943. Sgt. Ghere served in the Southwest Pacific until his discharge in 1946.








Bobby Ghere also graduated with the AHS Class of 1943. He and Imogene Bright ('42) were married September 1st that same year. He soon entered the Army on September 9, 1943 and then left for overseas April 6, 1944. He was wounded in action in France on July 9, 1944, resulting in his hospitalization in France and England until August 28th. He was awarded the Purple Heart for his wounds sustained and for his bravery in the line of service.
The March 22, 1945 Record Herald reported Mrs. Imogene Bright Ghere received a telegram from the War Department advising her of the death of her husband, Staff Sergeant Bobby Ghere, who died "somewhere in Germany" on March 3, 1945 from wounds he received in action. He had been in continuous battle while serving with the 83rd Division of the First Army since his August 28th release from the hospital. His service had taken him to France, Luxemburg, Belgium and Germany.
Russ Ghere reported in 1997, "During the Battle of the Bulge, General Patton and his 95th Division moved into the Rhineland to relieve the 83rd Infantry Division. Bobby Gene Ghere, a Staff Sergeant in this unit, was killed on March 3, 1945. George Ghere, a brother, attached to the 95th Division, went to Bob's unit three days later and was told that Bob had been killed. With George being able to speak with the Colonel and Captain of Bob's unit, the family knew exactly how he lost his life. Fighting had been heavy and ammunition was running low. Bob had been advanced from Corporal to Staff Sergeant in only six week's time. He went from his group to the rear for much needed ammunition and was captured and killed by the German soldiers who had infiltrated the area behind the battle area."
Bobby was buried in the Netherlands American Cemetery near Margraten. His parents' headstone also honors his memory at the Arcola Township Cemetery. Bobby left behind his widow, Imogene, and a son he had never seen, eleven month-old Danny Gene. Ghere/Pullen/Reinheimer VFW Post #7862 was named in his honor.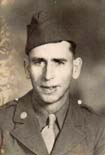 With John Ghere's enlistment in the Army December 30, 1943, at age 36, the Ghere family became one of the few Six-Star families in our country. John left Arcola at a young age and moved to Arkansas. He was married and had three children, the eldest being sixteen years old at the time he enlisted in Arkansas. Private First Class Ghere served with the 806th Tank Destroyer Battalion and was discharged in 1945.
The front-page news of the March 30, 1944 Record-Herald read, "Heart Attack Fatal to Mrs. Roy Ghere, 57". The article told of Lillie's March 29th death at her home on South Oak Street and reported, "Though not in the best of health during the past year or so, the condition of Mrs. Ghere was not considered serious. She had six sons in the service and seemed to worry considerable over their welfare." At the time of her death, Lillie left fifteen children ages 12-37. Sons John, George, Bobby and Russell were stationed in the United States. Donnie and Harry were somewhere in the South Pacific when their mother died. Daughter Lorraine took on many responsibilities for raising the four younger children who were still at home when Lillie died.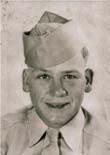 Jim Ghere was a junior at AHS at the time of his mother's death. He began his senior year in the fall of 1944 while living with his sister, and was again a valuable member of the Arcola football team. Upon reaching his 18th birthday on November 13th, Jim volunteered for the Navy. As was often the case, he then received his order from the local Selective Service Board to report to the Army in February 1945. Private Jimmie Ghere, the seventh brother to serve during World War II, was featured in the front-page story of the Maxey Times in the summer of 1945. The Maxey Times was the official publication serving the personnel of Camp Maxey in northeast Texas. It was reported Jim was believed to have more brothers in the service than any man who ever trained at Camp Maxey and he was in preparation to follow his six fighting brothers into combat. Corporal Jim Ghere was later stationed in Japan and then discharged in 1946.
A Jim Ghere story told of the time two soldiers met on a troop train in the states during the war. They passed in the aisle and then took a second look at each other. The two struck up a conversation and learned they were brothers John and Russ Ghere. While the story at first seems unlikely to be true, it becomes more believable when one considers John was nearly eighteen years older than Russ and had moved to Arkansas as a young adult. Without the communication, transportation or photography of our modern era, it is likely that Russ really did not know his much older brother.
Upon their return to the states following the war, six of the seven Ghere brothers were reunited with their families. John returned to his wife, Agnes, and children Russell, Sophromia and Darrell in Arkansas. He was employed in the Big Rock Mines at Little Rock and passed away on October 6, 1986, just before his 79th birthday.
George married Betty Lou Tuttle in 1939. He returned to Arcola where he worked as a laborer. He was a member of the Arcola United Methodist Church and Arcola VFW. George died in Arcola on April 16, 1998 at age 81, leaving a daughter, Joyce Ann.
Donnie married his high school sweetheart and classmate, Marjorie Shores ('38) on May 3, 1941. He returned to Arcola where they raised their three children, Dee ('64), David ('68) and Dianne ('77). Donnie was employed with the Thomas Monahan Company for 44 years and was actively involved in our community with Arcola Summer Recreation, Little League, 35-year AHS game worker, Arcola Fire Department, Masonic Lodge, Arcola VFW Post #7862 and the Arcola Presbyterian Church. He passed away on November 11, 2005 at the age of 87.
Harry married Lila Lee Irons in Mattoon on June 14, 1942. He and Lila lived in Mattoon following the war, where he worked at Keohne Manufacturing and the Mattoon Flower Shop. They later moved to Arcola, where they owned and operated the L&H Flower Shop. Harry was coach and sponsor for the L&H Cubs Little League baseball team. He was also a long-time employee at the Thomas Monahan Company, serving the company for 34 years from 1950-1984. Their children, Connie ('64) and Ron ('67) were AHS graduates. He enjoyed his retirement and the time he was able to spend with his family at their home at Lake Mattoon before his recent passing on October 10, 2013. Harry, age 91, was the last survivor of the Ghere children.
Bobby's widow, Imogene, remained in Arcola with her son, Dan ('62). She later married Lowell Thompson ('32). Daughters Bonnie ('67) and Cindy ('70) were also AHS graduates. Imogene was Arcola High School secretary for many years and now resides in Mattoon.
Russ married Jean Blagg ('44) in Palacios, TX on June 29, 1944. He returned to Illinois following the war, where he continued his education and earned his Master's degree at EIU in 1950. Russ taught and coached at Bridgeport 1950-1958. He and Jean then settled in Villa Grove with their son, Robert, and daughter, Becky. Russ taught and coached multiple sports at Villa Grove from 1958-1984 and the Villa Grove football field was named in his honor in 1982. He was a 1984 inductee into the Illinois High School Football Coaches Hall of Fame. Russ had been an outstanding football and track athlete while at EIU and was also inducted into the EIU Athletic Hall of Fame in 1995. He was a member of the Villa Grove United Methodist Church and chaired the Douglas County Board. Russ passed away January 27, 1999 at the age of 73. His widow, Jean, resides in Tuscola.
Jim left his AHS Class of '45 to serve the country during his senior year. Upon his return to Arcola following the war, he was able to complete all requirements to earn his GED. He married Elsie Turner of Bethany on June 19, 1948. Jim and Elsie raised their three children, Monte ('67), who served in US Army 1970-71, Rita ('71) and Scot ('78) in Arcola. Jim was employed with Laborers Local 573 since 1952 and was past President and Delegate of the District Council of Local 573. He was active with the Arcola Lions Club and member Arcola United Methodist Church. Jim was just 63 at the time of his death on August 22, 1990. His widow, Elsie, resides in Arcola.
In addition to the brothers, most of the Ghere sisters remained in the Arcola area. They were Alberta Short, Gertrude Murphy Meschkat, Lorraine Ghere, Edna Murphy, Louise Bright, Marguerite Utterback, Maxine Weir and Joe Ellen Chancellor. As their families grew in the 1950s, the Ghere brothers and sisters found it necessary to hold their annual family Christmas party in the Arcola Grade School all-purpose room. Their summer family reunions, a tradition that began in 1938, are still held annually at Moore Park on the last Sunday in July.
While most of the sons and daughters of the Ghere children never knew their Uncle Bobby, they grew up sensing that Bobby's death had been such a tragedy to the whole family. In 2003 Bobby's son, Dan, as well as his mother, wife and sisters visited with David Wheeler of Boston, who had served with Bobby from late December 1944 until his death in March 1945. They were able to learn of Bobby's leadership and the tremendous respect he had earned from others in his unit, as well as the events leading to his death near Neuss, Germany. He was killed just a few weeks before the war ended. Donnie's son, David Ghere, historian at the University of Minnesota, also interviewed Mr. Wheeler to learn more about his uncle.
It has been more than seventy years since the first Ghere brother left Arcola to serve the country in World War II. Like millions of other Americans during that time, they obeyed the call of duty. The Arcola Alumni Association pays tribute to the memory of John, George, Donnie, Harry, Bobby, Russ, Jim and all veterans who so honorably served this country and the community of Arcola.
Sources:
Arcola Record-Herald
Weekly Arcolian
Arcola Township Cemetery
Erin Ghere - www.findagrave.com
"Amazing Arcola" by Eva Monfort Ridenour
Arcola United Methodist Church - "Honoring Our Veterans" by Sue Stout
David Ghere's Interview with David Wheeler
Written information by David Wheeler
Connie Ghere Walton
Ron Ghere
Dan Ghere
Elsie Ghere