AHS Class of 1968
July 28, 2018
The Class of 1968 held their 50-year reunion July 28, 2018, We had a total of 28 class mates and with spouses/partners 44 attended the event at It'll Do Bar and Grill. Steve Williams took a class picture, Jerry Good provided music (so we could sing the Arcola Fight Song) and Skip Lee was the MC for the evening. We had a great time renewing friendships, discussing memories from our time at Arcola High School as well as honoring those that have passed.
Gwen Taylor (from the class of 1967) had sent a $50 donation in memory of her brother, Dennis Taylor. Her note was read to those attending and a decision was made to take up a collection and donate the total of $400 to the Arcola Foundation in Memory of Dennis Taylor and all of those that have passed from the class of 1968.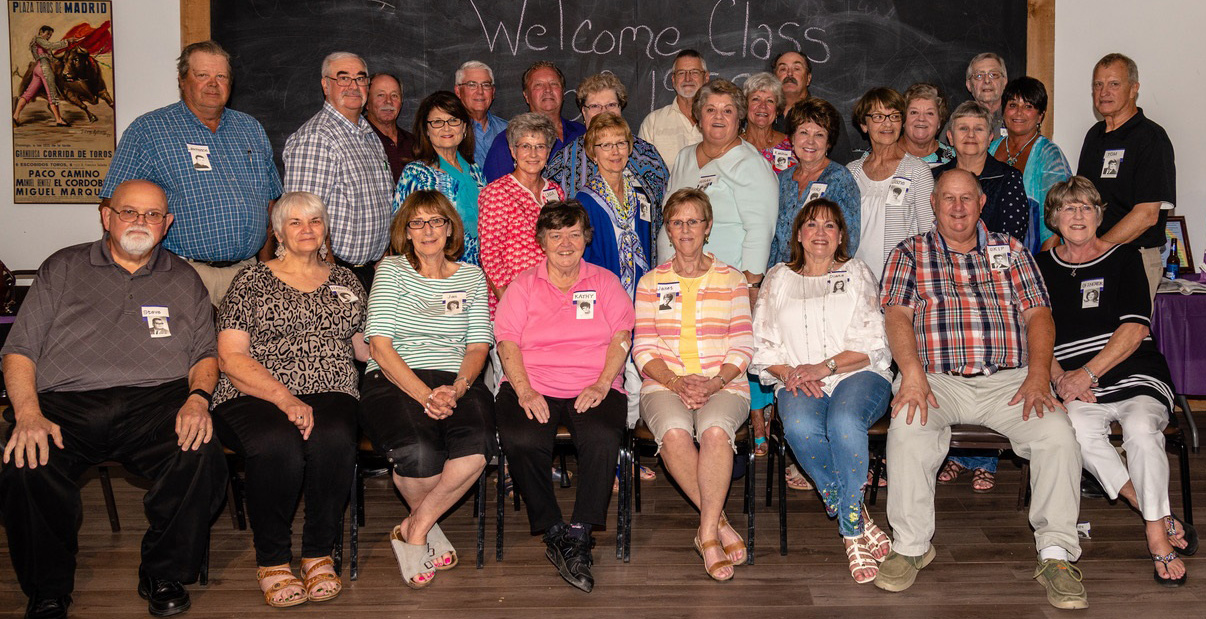 Seated, Left to Right: Steve Williams, Nancy (Reynolds) Simpson, Janet (Cox) Perrey, Kathy Nacke, Janet (Boyer) Thompson, Diane (Sargent) Hill, Charles "Skip" Lee, Ginger (Phillips) Coffer
Second Row: Lawrence Schrock, James Spear, Renie (Gingerich) Johnson, Linda (Maxwell) Clark, Karen (Thompson) Cain, Susan Snyder, Vicky (Rothrock) Coffin, Jane (Miller) McNary, Linda (Tuttle) Dyer,
Back Row: Dick Mohr, Dennis Thompson, Jerry Good, Janet Clark, Jeff Bickel, Kathie (Newby) Whitley, Paul Knaus, Sheryl Snyder, Andy Hopkins, Lynn (VanGundy) Miller, Tom Spence.