Class of 1972
2012 Reunion
The Arcola High School Class of 1972 gathered in Arcola on July 6, 7 and 8th for their 40-year class reunion. Several class members enjoyed an informal meeting at Carmen's Bar and Grill on Friday night, July 6th.
Nancy (Herrington) Mathias ('71) guided twenty classmates and their guests on a tour of both the old high school building and the more recent building additions on Saturday afternoon. Classmates contributed $2,326.00 to the Arcola Alumni Association trophy case project in 2011 and were able to see the impressive new display cases during their school tour. Following the tour, many also visited the downtown area and viewed the new outdoor murals.
Fifty-two classmates, teachers and guests assembled at Kaskaskia Country Club on Saturday evening for their reunion banquet. Former teachers Malcolm Fox, Pat Sullivan and Randy Rothrock joined the class members and recalled many memorable experiences with the Class of '72. During a brief class meeting, class members again gave generously to their fund in order to purchase books for the Arcola Public Library in memory of their deceased classmates, parents, children, siblings and spouses of classmates.
More than thirty classmates, family members, teachers and guests concluded the weekend at Rockome Restaurant on Sunday. Former teacher Jim Strange joined fellow educators Sullivan and Rothrock for the reunion brunch.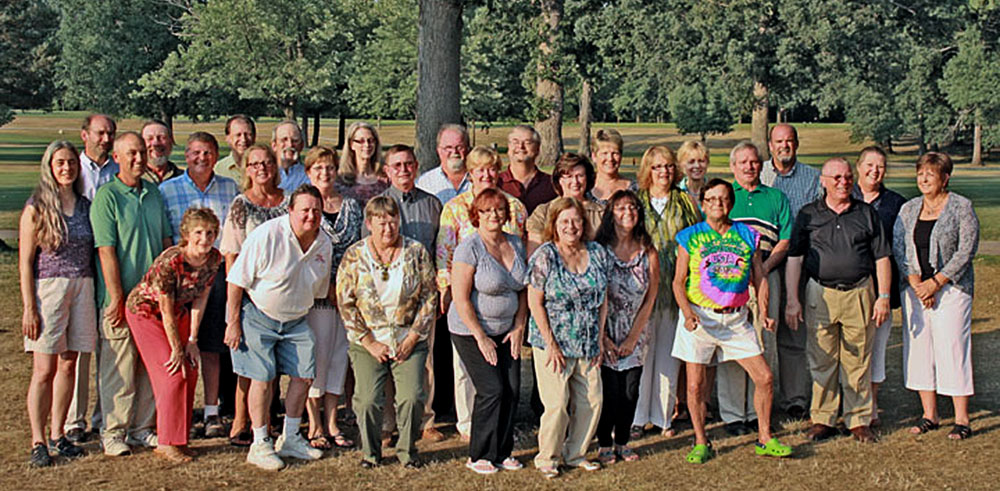 First Row, L-R: Sue (Rairden) Stout, Lynn Knaus, Denise (Smith) Stearns, Connie (Burch) Cooper, Jennie File, Ruth Ann (Cox) King and Darlene (Fidler) Phillips
Second Row, L-R: Assunta Kent, Alan Brandenburg, Rick Biggs, Pat (Walsh) Alcorn, Glenda (King) Chancellor, John Mills, Judy (Clark) Schmitt,
Debby (Chumbley) Hite, Ann (Lauderback) Aumiller, Dennis Green, Phil Helmuth, Ruth Hilligoss and Sandy (Wagoner) Arthur
Third Row, L-R: Jerry McCoy, John Kutz, Dee Shonkwiler, Robert Little, Cindy (Dunagan) Marrs, Greg Fulton, Mark Edgar, Dianne (Conlin) Murphy,
Bonnie (Walker) Yoder and Jerry Lutz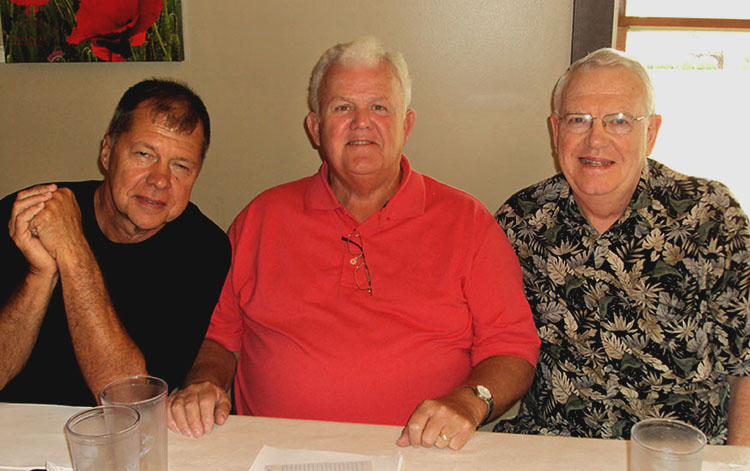 L-R: Randy Rothrock, Jim Strange, Pat Sullivan
Absent: Malcolm Fox
Photos courtesy of Candi Biggs Snyder & Sue Rairden Stout