News
Archived News
High School Building Centennial
Arcola High School opened its doors in September 1917. That means when September of 2017 rolls around, the high school will have been used to educate the children of Arcola for 100 years.
To commemorate the milestone, the public will be welcomed at an open house of the high school building on October 21, 2017 from 12:00 noon to 3:00 PM. The celebration will include a display of historic memorabilia from 100 years; building tours; interviews with Arcola alumni; entertainment; refreshments; and presentations on how today's classrooms look different than they did in the past.
Arcola's Past & Future - by Nancie King Mertz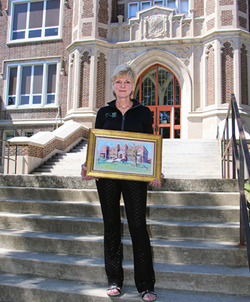 Nancie King Mertz - an alumna of Arcola High School and Distinguished Alumna, Charter Class of 2013 - has donated her painting " Arcola's Past & Future" to be auctioned by the Arcola Alumni Association. Bids may be submitted to Sue Stout by:
Phone - (217) 268-3190
Mail - P.O. Box 112; Arcola, IL 61910
email
The bidding will culminate at the Distinguished Alumni banquet on October 21, 2017.
The Arcola Alumni Association will honor Arcola High School's oldest living graduates in the coming months. To recommend an Arcola High School alumnus for recognition, complete the form.

Alma Grace Swick Harshbarger, a 1931 AHS alumna, is the first honoree. And at age 101, is believed to be Arcola High School's oldest living graduate.

Thomas B. Blagg, a 1938 AHS alumnus, is the April 2015 honoree.

LaVonne Smith, a 1935 AHS alumna, is the July 2015 honoree.

Ruth & Bob Holaday, 1942 and 1943 AHS alumni respectively, are the February 2016 honorees.

Rodie Van Gundy King, 1943 AHS alumna is the March 2016 honoree.

Bob Van Cleave, 1941 AHS alumnus is the December 2016 honoree.
The Arcola Alumni Association has initiated its Veterans Recognition project. To be included, a person must meet the following criteria:


Attended and/or graduated from Arcola High School
Served in any branch of the U.S. Military
Currently serving or received an honorable discharge

Click for additional information about the Veterans' Recognition project. Complete and return the form to recommend a veteran for recognition.
Recent Class Reunions
We've added pages containing pictures and information from recent class reunions.
If your class had a reunion since 2005, we'll publish group pictures and information.
Forward the information via E-mail.
We have recently been made aware of E-Mail solicitations to Arcola alumni for memberships, merchandise, etc. The solicitation includes a link to the www.alumniclass.com website - which is NOT the Arcola Alumni Association's website.

AT THIS TIME, THE ARCOLA ALUMNI ASSOCIATION DOES NOT OFFER LIFETIME MEMBERSHIPS NOR ARCOLA HIGH SCHOOL MERCHANDISE.

OFFICIAL ARCOLA HIGH SCHOOL MERCHANDISE IS ONLY AVAILABLE FROM VYVERBERGS, FROM VARIOUS ARCOLA HIGH SCHOOL ORGANIZATIONS, OR AFFILIATED BOOSTER GROUPS.

DO NOT subscribe/purchase merchandise via the www.alumniclass.com website with the intention of joining the Arcola Alumni Association or supporting local businesses/organizations.
Assistance Needed
Help is needed in identifying students in the 1909 freshman class.
Events
Archived Events
Five Arcola High School graduates will be honored as Distinguished Alumni during the Arcola Alumni Association's alumni banquet at Kaskaskia Country Club on Saturday, October 21, 2017.
The 2017 honored Arcola High School alumni and year of graduation are:
Capt. John D. Kibler, deceased (AHS 1932)
Raymond Arthur "Art" Beazley, deceased (AHS 1959)
John Andrew "Andy" Walton, Jr. (AHS 1962)
Cheryl S. Holaday Hilgenberg (AHS 1966)
Gail Chaney Kalinich (AHS 1980)
Banquet Reservations should be submitted to Kendall Moore by October 13, 2017.