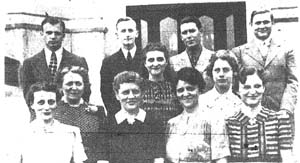 Front row, L-R: Miss Aline E. Schultz, Latin and French; Mrs. Lois B. Moore, English; Miss Modesta L. Scott, History; Miss Edna Ludolph, office secretary
Second row, L-R: Mrs. Mildred E. Jones, English; Miss Nora E. Hall, Mathematics; Miss Eunice L. Thompson, Science
Top row, L-R: Al Miller, Coach and Manual Training; Wm. L. Waxler, Chemistry and Physics; Earl A. Cousineau, Commercial; J. W. Meridith, Agriculture
Absent: Miss Sarah Miner, Music and Band instructor; Miss Joye Iverson, Home Economics
These class pictures were extracted from microfilm documents of the Arcola Record-Herald at the Arcola Public Library. The quality of pictures from microfilm is generally lower than those from printed material - i.e. yearbooks or pictures. If anyone has a yearbook, a class picture, or any other source containing the 1940 graduating class, please contact the Arcola Alumni Association.